January 30, 2014, 4:30 PM PST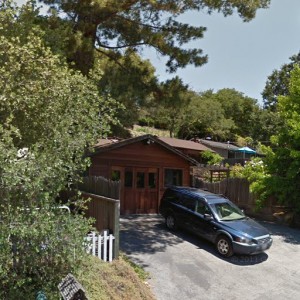 35 Paso Cresta Rd, Carmel, California.
Photo by Google Maps Street View.
It would seem that California's hunters, fishermen and recreational shooters have something more to worry about these days. That is because the regulations in California's Political Reform Act give an unfair advantage to environmentalist, anti-hunting, and anti-gun non-profit groups that are currently lobbying public officials in California.
As an example of this substantial problem, a request has been made by the National Shooting Sports Foundation to investigate potential conflicts of interest related to California Fish & Game Commission President Mike Sutton and his current employer, National Audubon.
NSSF General Council Larry Keane has made a direct written request to California Attorney General Kamala Harris to investigate Sutton months after Sutton himself made a preemptive request to the California Fair Political Practices Commission. The FPPC Reply to Sutton from March 27, 2013 effectively answered that prior request with a finding of "no conflict of interest".
Sutton has been a key voice on the California Fish & Game Commission in banning traditional lead ammunition from hunting in California. Sutton has also been heavily involved in the regulatory process that is shutting down commercial and recreational fisheries along the entire California coast.
Essentially the FPPC has ruled that both Audubon and Sutton himself did not have any "financial interest" at stake with employing Sutton while at the same time lobbying both the California Department of Fish & Wildlife and the California Fish and Game Commission (where Sutton is President) on select issues.
The FPPC did qualify this finding as being based solely on documentation submitted by Sutton and his own Legal Counsel.
Sutton had survived a previous and similar FPPC challenge from a fishing group in opposition to the MPA regulations coming out of the Commission back in 2009. Like in 2009, Sutton continues to vote and has the potentialto act today on a number of issues of alleged interest to his previous employer, the Monterey Bay Aquarium Foundation (MBAF), or even current employer National Audubon.
For example, and as reported to the California Secretary of State, MBAF lobbied Sutton and other Department of Fish & Wildlife personnel in theFirst Quarter and Second Quarter of 2013.
The ability of both MBAF and National Audubon to lobby Sutton with relative impunity is of key interest to the sporting public here.
That is because under California's Political Reform Act, non-profits enjoy significant exemptions not available to "for-profit" businesses.
That is not to say that groups like the Monterey Bay Aquarium Foundation (MBAF) are without assets, nor participate in business activities. A review of the MBAF Form 990 Files for 2007, 2008, 2009, 2010, 2011, and 2012reveal a business conglomerate with gross receipts of more than $ 180 million and net assets of more than $ 300 million (2012 figures). Receipts on this level in the private sector are comparable to companies like privately held game designer Kabam, recently touted by the San Jose Mercury News for the same level of sales.
But despite Sutton's apparent success with the shell game that is the Political Reform Act, in every life some rain must fall. While Sutton is certainly an effective fundraiser for environmental groups, and tireless voice on the Commission for what some would call the "environmental-whacko" perspective on everything from seafood choices (salmon bad, tilapia good) to shooting steel shot into brush during the fire-season, real estate appears to not be his strong-suit.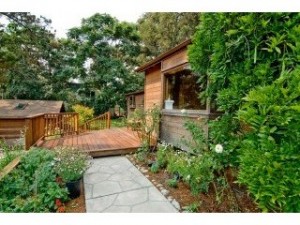 Image from an MLS Listing
Back in October of 2007, Sutton and his significant other purchased a personal residential dwelling located at 35 Paso Cresta Rd, in Carmel Valley, California. (Ironically, the house is so close to the recently listed red-legged frog habitat in that part of Coastal California that it might eventually get tagged with title restrictions of the devaluation kind.).
For the meager sum of $ 920,000, carried mostly on two deeds of trust (Document # 2007079028 and Document # 2007079115), Sutton was the proud owner of a 1600 square foot house located on roughly a quarter acre built in 1946 (and apparently remodeled since then).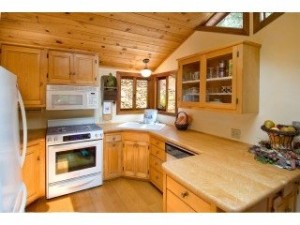 Image from an MLS Listing
Back in late 2007, at the top of the Carmel Valley market, it took significant funds to get into real estate. Nonetheless Sutton was able to obtain a"pick-a-pay" loan from a bank for $ 644,000, and cover most of the rest of the purchase price of $ 230,000 from a unique, only-one-of-it's-kind-to-an-employee Second Deed of Trust obtained from his particular employer.
That employer? The Monterey Bay Aquarium Foundation.
But this is where things start getting interesting from a property contracts point of view for Mike Sutton.
One of the conditions of the Second Deed of Trust was that if he were ever to leave the Monterey Bay Aquarium Foundation, he would have 90 days to pay off the amount owing. (Another standardized condition was that Second Deed of Trust was superior to any other loan claims on the property, but that is another story.). Sutton later announced in the Spring of 2012 that he would be leaving the Monterey Bay Aquarium Foundation to join California Audubon as their new Executive Director.
Thus roughly around the end of September of 2012, Sutton was obligated to pull out the checkbook, draw down some of that $200,000 or so he makes per year working for Big Green, and pay his debt. Or he had the option of going to another bank and re-financing the Second Deed of Trust with another commercial lender. (As a last resort, Sutton at least had the option of selling his Cessna T210N, "N"-Number 210MT, if he needed some fast cash.).
Small hitch- a reappraisal by the Monterey County Assessor due to Prop 8 had caused Sutton's property to be appraised downward for 2011 purposes to $526,872, and for 2013 purposes to $413,000. Sutton is as "upside-down" on this property as one can be despite 2013 being one ofthe best years for property appraisal values in Monterey County in a few years. (It is interesting to note that the California Board of Equalization had recently found valuations problems in the Monterey County Assessor's Office in it's October 2013 report, including failure to document evidence to justify re-appraisals for specific properties under review.). Also oddly enough, sites like Homesnap claim that the current value of 35 Paso Cresta is more like $ 624,000.
Given the problems with the County-level appraisal, some might say that another commercial loan to cover the Second Deed of Trust was not a realistic option.
On the other hand, as long as Sutton was making his payments (again, he has the salary as long as he did not take a vow of poverty moving over to Audubon), he could tough it out and wait for the Obama economy to pull him out of a $ 507,000 paper loss on equity. He perhaps could renegotiate the loan with Monterey Bay Aquarium Foundation, have them continue the loan in a more commercial-like format, and then recuse himself from any business before the California Fish & Game Commission that had anything to do with the MBAF lobbying agenda.
But that is apparently not what happened in real life.
In real life, Sutton appears to not have paid his note to MBAF by the September 2012 deadline. Sutton's former employer had to, as they say,"eat" a loss of $ 198,000 in December of 2012. Also, MBAF has apparently not filed a release with the Monterey County Recorder, though they have filed a document asking to be notified if the property is noticed for sale or if the Primary Lender forecloses on the property. As of this article's publication, Sutton is still in possession of real property that he could not have obtained otherwise without the MBAF loan.
One can only wonder what kind of state of mind that Sutton had when approached by MBAF lobbyists, as reported, in First Quarter of 2013, after knowing about MBAF's actions towards his debt relief in the 4th Quarter of 2012.
And one can only wonder if the kind of debt relief suggested by an electable write-off of $ 198,000 constitutes the kinds of financial interest that the FPPC, the California Attorney General, or perhaps even Federal Authorities would want to review. Given the recent Bob McDonnell indictment in Virginia, one would think that there would be interest in some quarter as to this kind of financial activity with a public official.
This last may be of import because of the observations in the March 27, 2013 FPPC response to Sutton's Counsel. While the FPPC noted that they had "no reason to disagree" with Sutton's contention that Audubon would not incur significant costs lobbying the Fish & Game Commission, it is uncertain at this time as to whether Audubon or Sutton has provided cost data related to their multi-year lobbying expenses on the lead ammunition ban given their losses at the Commission and in the Legislature in 2009 and 2010.
Given Federal tax law limitations on lobbying expenses for non-profits, it is distinctly in MBAF's and National Audubon's interest to limit lobbying expenses spent each year. Furthermore, the FPPC finding had nothing to say on Sutton's activities at the Wildlife Conservation Board and any grants to National Audubon that he has the potential to vote on.
Despite multiple contact attempts about this article, Mike Sutton was not available for comment prior to publication.
So it would seem that if AG Kamala Harris is really going to do her job and look at the possible conflicts of interest between Sutton and Audubon, it would seem the Monterey Bay Aquarium Foundation matter deserves a review as well. Public stakeholders will need to know whether all the financial interests and relationships between Sutton, National Audubon, and Monterey Bay Aquarium Foundation are fully investigated, and above board.
Should it turn out after a thorough investigation that Sutton's actions do not break the actual written letter of the Political Reform Act, it's perhaps time for the Legislature to consider a major rewrite of a thoroughly compromised piece of legislation. Any set of regulations that lets lobbyist employers off the hook for giving up "sweet-heart" $ 198,000 loans to public officials and get away with it surely is a fine example of how "the fish rots from the head down".
It's also not often that a public official can get away with these kinds of interest group largesse, however, given how much the FBI is interested in the Calderons these days. Hopefully something constructive can be done about reforming the Political Reform Act, before the stench drives everyone out of Sacramento.